COVID-19 Pandemic is a very serious situation.
Please help keep West Elgin residents safe. Stay home, if you are sick self isolate. Practise Social Distancing of at least 2 m
How to report a complaint regarding COVID-19
In West Elgin all complaints are enforced by Elgin County OPP and can be directed to their non emergency line at 1-888-310-1122
If you have a question regarding if a business should be open please contact 1-888-444-3659.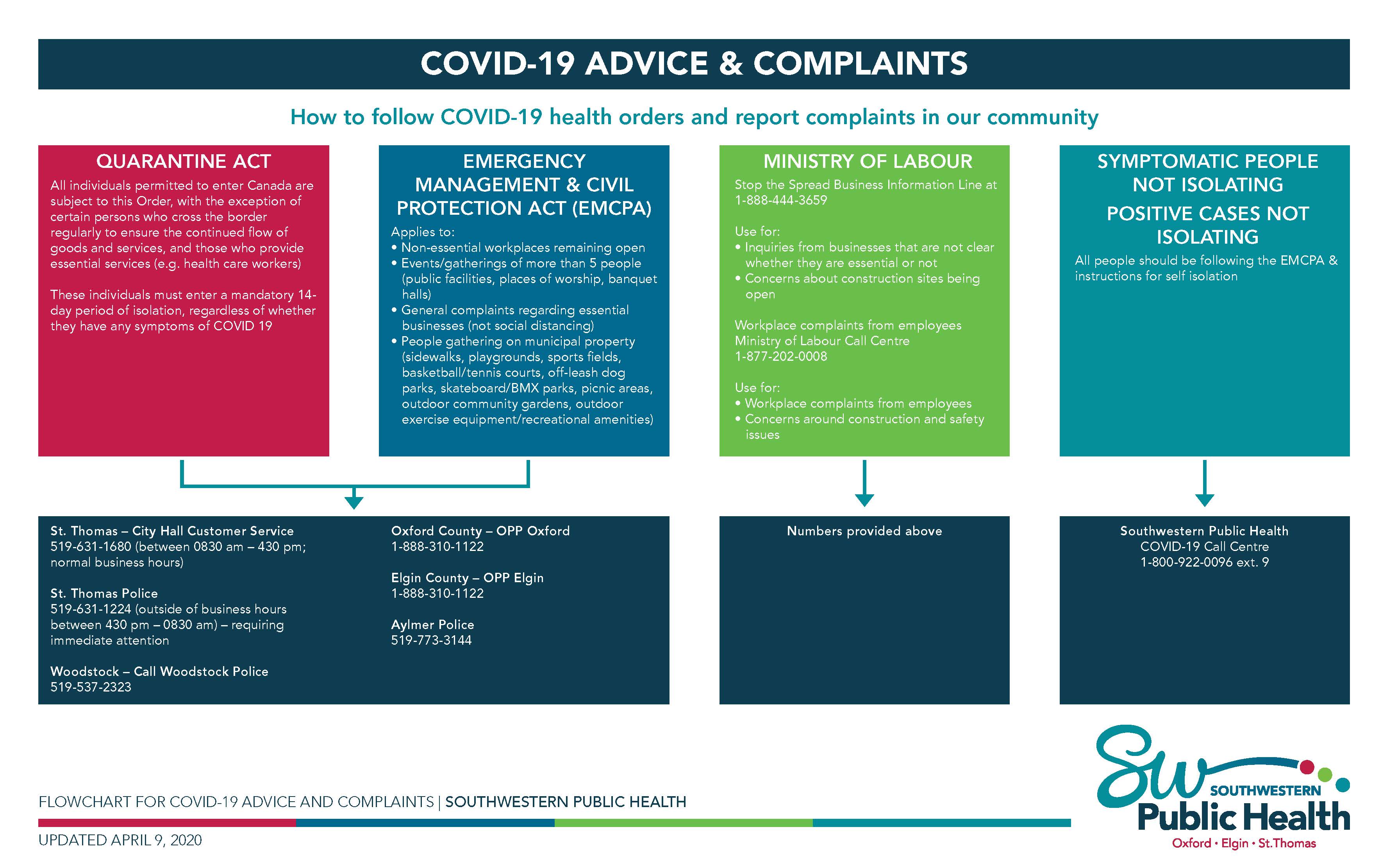 Latest Information



Municipal Services
Municipal Office is Open to the public between 8:30 am and 4:30 pm (CLOSED between 12:30 and 1 pm).
West Lorne and Rodney Libraries are closed to the public. Libraries are offering curbside pick up and drop off – please visit the County's website or call 519-631-1460 x. 148, for more information.
Recreation Facilities including the West Elgin Recreation Centre in Rodney, Community Room at the West Lorne Complex and West Elgin Community Centre (Arena) are all closed. No programs or events of any kind are being held until further notice.
Municipal Landfill at 20385 Downie Line, Rodney hours are Wednesday, Friday and Saturday from 9 am to 4 pm. Vehicle access is restricted to 5 vehicles at one time.
Four Counties Transit: Four Counties Transit Service resumes operations starting August 4, 2020.
General Information on COVID-19
Misinformation about COVID-19 has spread far and fast. To fight these myths and lies, the World Health Organization created a series "mythbusters" based on the latest clinical and research information about the novel coronavirus.
Check it out by visiting: www.who.int/emergencies/diseases/novel-coronavirus-2019/advice-for-public/myth-busters
Other Known Trusted Websites
(this is not an all inclusive listing – just a few to help you stay informed)
Protect yourself from Fraud
Watch out for COVID-19 associated scams. Fraudsters want to profit from consumers' fears, uncertainties and misinformation. Fraudsters are exploiting the crisis to facilitate fraud and cyber crime.
Visit the Canadian Anti Fraud Centre website for a list of potential scams and how to report them: www.antifraudcentre-centreantifraude.ca/features-vedette/2020/covid-19-eng.htm