COVID-19 Pandemic is a very serious situation.
Please help keep West Elgin residents safe. Stay home, if you are sick self isolate. Practice Social Distancing of at least 2 m
How to report a complaint regarding COVID-19
In West Elgin all complaints are enforced by Elgin County OPP and can be directed to their non emergency line at 1-888-310-1122
If you have a question regarding if a business should be open please contact 1-888-444-3659.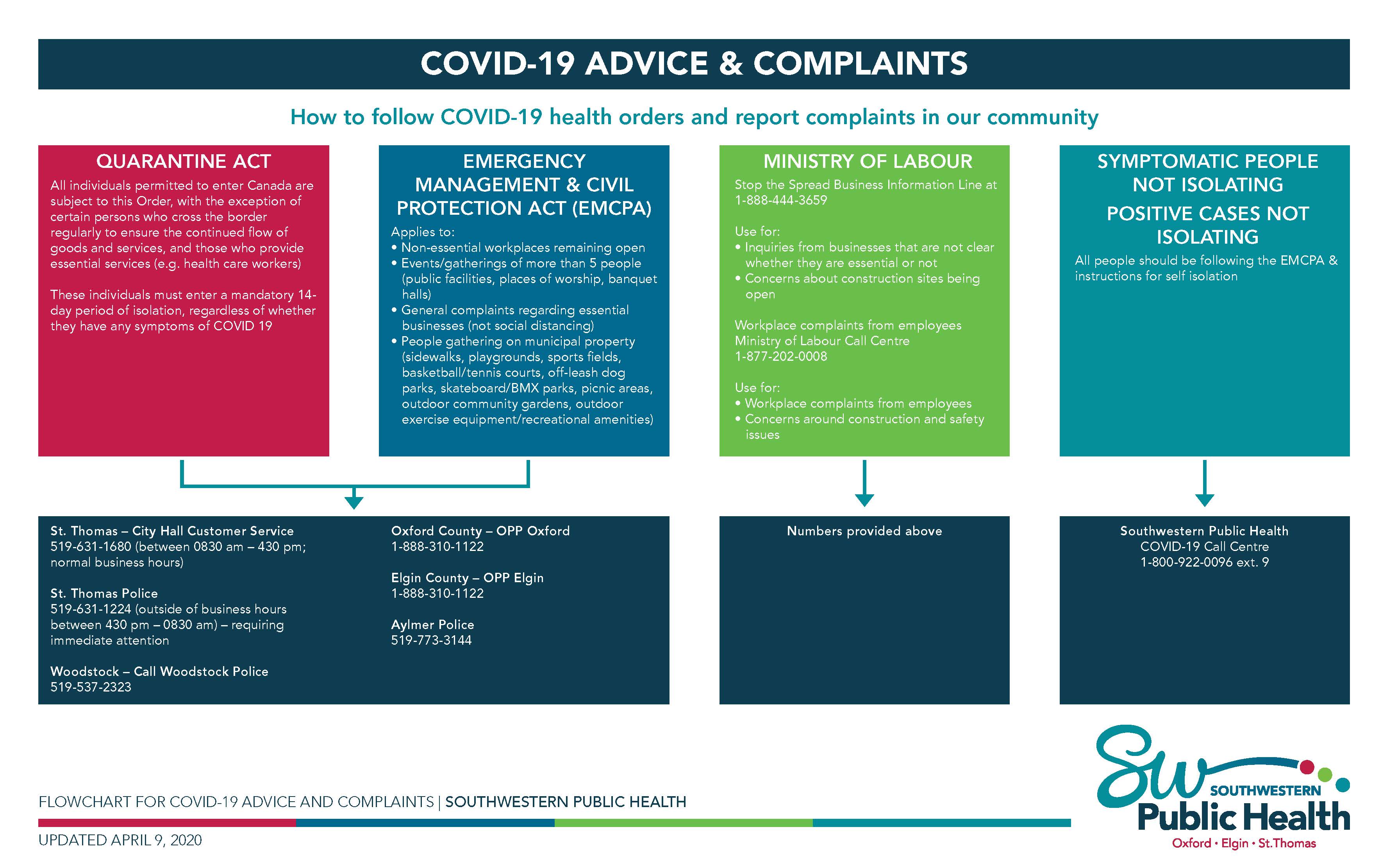 Latest Information
Southwestern Public Health is in ORANGE


𝗢𝗻𝘁𝗮𝗿𝗶𝗼 𝗦𝘂𝗽𝗽𝗼𝗿𝘁𝘀 𝗦𝗺𝗮𝗹𝗹 𝗠𝗮𝗶𝗻 𝗦𝘁𝗿𝗲𝗲𝘁 𝗕𝘂𝘀𝗶𝗻𝗲𝘀𝘀𝗲𝘀 𝘄𝗶𝘁𝗵 $𝟲𝟬 𝗠𝗶𝗹𝗹𝗶𝗼𝗻 𝗶𝗻 𝗙𝘂𝗻𝗱𝗶𝗻𝗴 𝘁𝗵𝗿𝗼𝘂𝗴𝗵 𝗣𝗣𝗘 𝗚𝗿𝗮𝗻𝘁

The Province of Ontario is helping small businesses with the unexpected costs of PPE.

𝙀𝙡𝙞𝙜𝙞𝙗𝙞𝙡𝙞𝙩𝙮
To be eligible, your business must have two to nine employees and be in one of the following sectors:
• retail
• accommodation and food services
• repair and maintenance
• personal and laundry services

𝙒𝙝𝙖𝙩 𝙮𝙤𝙪'𝙡𝙡 𝙜𝙚𝙩
Eligible small businesses will get one-time grants of up to $1,000.

𝙒𝙝𝙖𝙩 𝙮𝙤𝙪'𝙡𝙡 𝙣𝙚𝙚𝙙 𝙩𝙤 𝙖𝙥𝙥𝙡𝙮
You will need to submit receipts or proof of costs for PPE purchased since March 17, 2020. This includes:
• gloves, gowns, face shields, eye protection, masks, sanitizer, sanitizing wipes
• thermometers, temperature monitors or cameras
• physical changes, including the installation of hand sanitizer stations and plexiglass dividers
• signs to guide or inform customers and employees

The grant application is now live, apply here: https://www.app.grants.gov.on.ca/msrf/#/
November 16, 2020 - Southwestern Public Health Moves to Yellow - Protect Mode
September 19, 2020 - Lower Gathering Limits
Effective Immediately the Province has lowered Social Gathering Limits.
July 31 - Took Kit for Businesses re Masking
July 30 - Letter of Instruction for Masking
July 23 - Class 22 Issue Ordered
Today, Dr. Joyce Lock, Medical Officer of Health for Southwestern Public Health, issued a Class Order Section 22. This legal document authorizes the health unit to enforce individual compliance with public health instructions. These instructions include isolating yourself if you have been diagnosed with COVID-19; if you are awaiting your test results, if you otherwise have reasonable grounds to believe you have symptoms of COVID-19 or if you are a close contact with any of the above.

Click here to read the article
July 13 - Stage 3
A framework for reopening - stage 3
July 8
Today Southwestern Public Health's Medical Officer of Health issued a Class Order for the protection of area farm workers.

Based on the increasing number of large COVID-19 outbreaks at agricultural farms in similar regions across Ontario, this is a targeted, proactive measure that will strengthen our ability to reduce the spread of COVID-19 and ensure the health of area farm workers. While most farm workers and employers have been compliant with instructions from public health authorities, some individuals do not take these measures seriously. This Class Order is a legal tool to ensure that agricultural farm owners/operators and staff comply with the directions set out in the Order.
June 16
Workplace Safety Plan for COVID-19
June 11
Guidelines on Yard Sales
June 8
Phase 2 News Release
June 3
Activity Risk Level
June 2
Updated list of COVID-19 Symptoms
May 25
Find out what Federal Supports you are entitled to
May 21
Municipal Services
Municipal Office is Open to the public between 8:30 am and 4:30 pm (CLOSED between 12:30 and 1 pm).
West Lorne and Rodney Libraries are closed to the public. Libraries are offering curbside pick up and drop off – please visit the County's website or call 519-631-1460 x. 148, for more information.
Recreation Facilities including the West Elgin Recreation Centre in Rodney, Community Room at the West Lorne Complex and West Elgin Community Centre (Arena) are all closed. No programs or events of any kind are being held until further notice.
Municipal Landfill at 20385 Downie Line, Rodney hours are Wednesday, Friday and Saturday from 9 am to 4 pm. Vehicle access is restricted to 5 vehicles at one time.
Four Counties Transit: Four Counties Transit Service resumes operations starting August 4, 2020.
General Information on COVID-19
Misinformation about COVID-19 has spread far and fast. To fight these myths and lies, the World Health Organization created a series "mythbusters" based on the latest clinical and research information about the novel coronavirus.
Check it out by visiting: www.who.int/emergencies/diseases/novel-coronavirus-2019/advice-for-public/myth-busters
Other Known Trusted Websites
(this is not an all inclusive listing – just a few to help you stay informed)
Protect yourself from Fraud
Watch out for COVID-19 associated scams. Fraudsters want to profit from consumers' fears, uncertainties and misinformation. Fraudsters are exploiting the crisis to facilitate fraud and cyber crime.
Visit the Canadian Anti Fraud Centre website for a list of potential scams and how to report them: www.antifraudcentre-centreantifraude.ca/features-vedette/2020/covid-19-eng.htm