Service Ontario Re-Opens by Appointment Only March 22, 2021
Starting on Monday March 22, 2021, Service Ontario will require pre-booked appointments. To book an appointment please click on the button and book online or by calling 1-800-267-8097.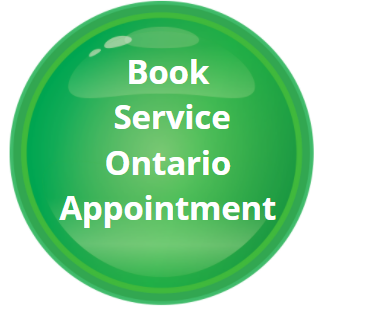 The Municipality of West Elgin - Service Ontario Office provides Driver, Vehicle, Health Card, and other services.
Location and hours
The Service Ontario office is located in our Municipal Office, 22413 Hoskins Line, in Rodney.
New Hours
Effective January 4, 2020 West Elgin Service Ontario will operate reduced hours:
Monday 8:30 am to 4:30 pm
Tuesday 8:30 am to 4:30 pm
Wednesday 8:30 am to 1:30 pm
Thursday & Friday - CLOSED
Services
We offer the following services at the Service Ontario location in Rodney:
Ontario Drivers Licence renewals, replacements, reinstatements, and photos.
Ontario Health Card renewals, replacements, and photos.
Address changes.
Vehicle ownership replacements and transfers.
Driver Abstracts, Driver History Abstract, Vehicle Abstract, and Commercial Vehicle Operator's Registration (CVOR) Abstract.
Driver handbook sales
You can purchase the following driver handbooks at our location:
Driver's Handbook for $16.89.
Air Brakes Handbook for $21.41.
Truck Handbook for $21.41.
Motorcycle Handbook for $21.41.
We have a limited stock of handbooks. Please contact us to see what is available.
Hunting and Fishing Licences
Are you interested in hunting or fishing in the Province of Ontario? You need to get a hunting licence or fishing licence. Visit the Ministry of Natural Resources to find out how to apply for a: