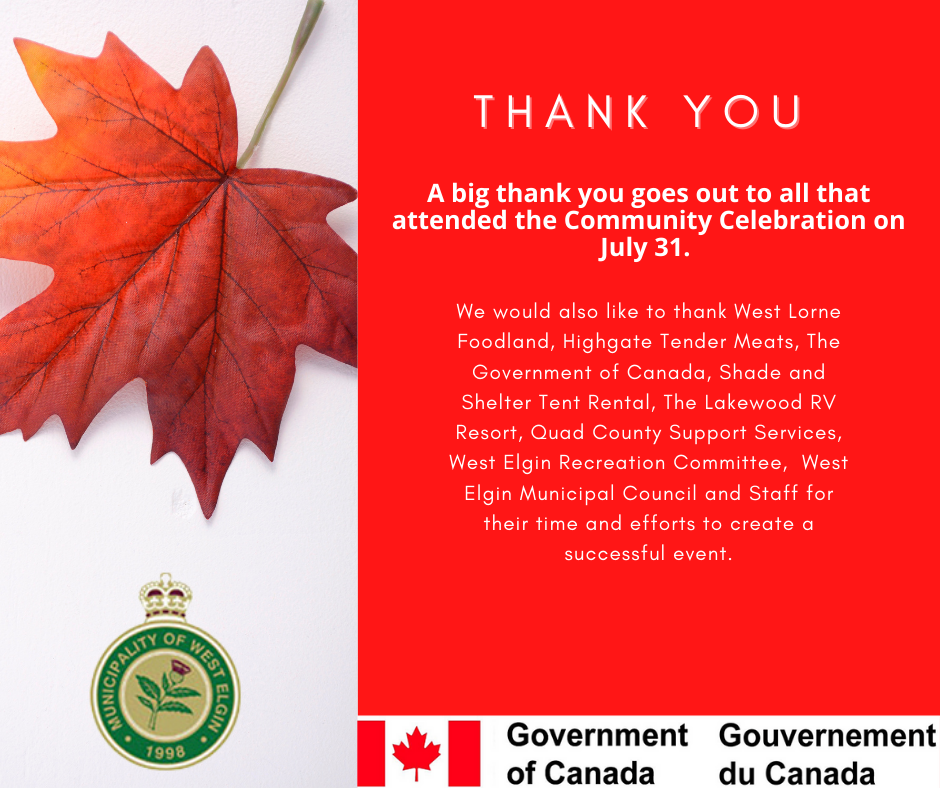 Thank you to all that made the Community Celebrations a successful event. We look forward to hosting another Community Celebration.
Join us for Canada's Birthday Celebrations, featuring barbecued food, painting and free swimming on July 31, 2021. Pre-registration is required.
Community Celebration Drive Thru BBQ
The Municipality of West Elgin is hosting a free barbecue. We have hamburgers, hotdogs, chips, refreshments and cool treats for all to enjoy.
Barbecue Location: 171 Graham Road West Lorne, ON N0L 2P0 (West Lorne Arena)
Registration is now closed for the BBQ.
Community Painting
Come out and help us create a painting to display each year at Canada Day. Miller Park Pavilion in West Lorne. Free for all to participate. Drop in from 11:00 a.m.to 5:00 p.m.
Free Swim
Due to COVID-19 restrictions pre registration is required and time slots can be booked in one hour increments. Occupancy limits of 25 persons per swim.
Registration is now open. If you would like to attend a swim time below please fill out a form below or call the Municipal office 519-785-0560 ext. 200
Location: 259 Ridout Street Rodney, ON N0L 2C0
Registration is now closed for the Canada Day Free Swim. If you would like to swim on July 31, 2021 please call the pool at 519-785-0750.
Colouring Contest

Photo Gallery: Canada Day Colouring Contest 2021 will appear here on the public site.
Personal information is collected under the legal authority of the Municipal Act, as amended. This information is collected and maintained for the purpose of entering a Canada Day coloring contest or registering for a public in person event with the Municipality of West Elgin. Questions about this collection should be directed to the Clerk, at 22413 Hoskins Line, Rodney, ON 519-785-0560 or clerk@westelgin.net. This information will be kept private and confidential unless otherwise required by law.