New for 2021
Starting January 1, 2021 West Elgin will drop its bag limit to 3 bag limit for curbside collection of garbage. Recycling is Unlimited. For tips on how to reduce your garbage bags please see the Updates page.
Garbage and Recycling Collection Calendars
West Elgin provides municipal wide curbside collection of garbage and recycling. View our Collection Maps to see what day is your garbage & recycling is collected.
Garbage is collected weekly and recycling bi-weekly. View the 2021 Garbage and Recycling Calendar to see which week you receive recycling collection. You can pick up a paper copy of the garbage and recycling collection schedule at the Municipal Office located at 22413 Hoskins Line in Rodney.
Please have your garbage and recycling curbside by 7:00 a.m. on the designated days.
Please note West Elgin has a 3 bag limit for household waste.
Yard Waste Curbside Collection Days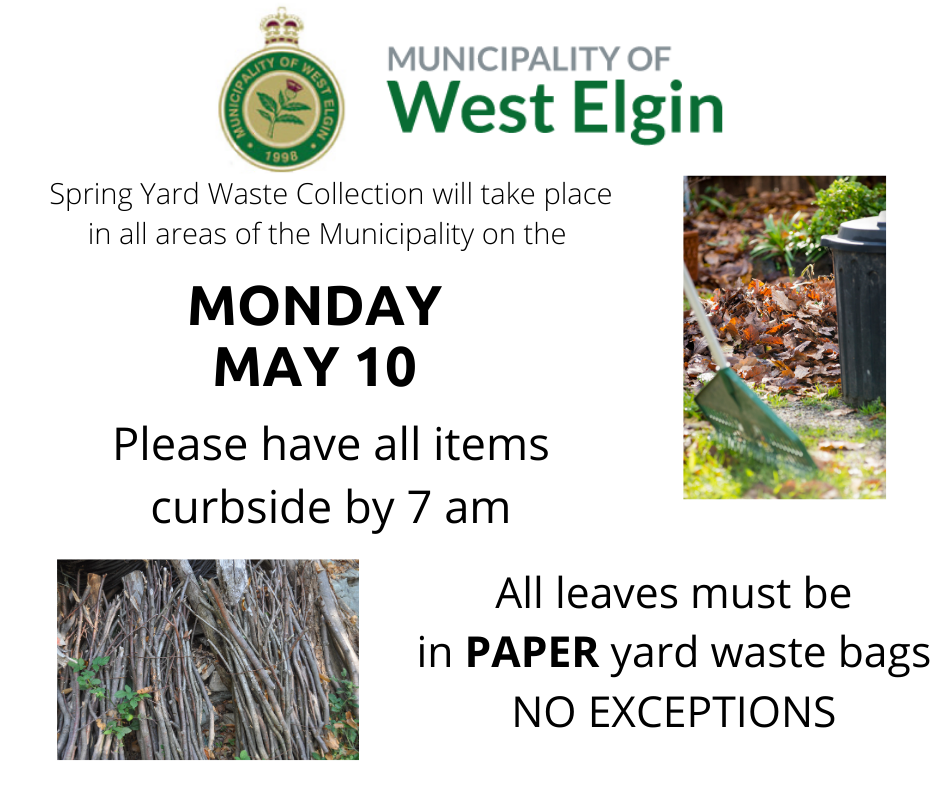 Spring Curbside Yard Waste Collection Day is Monday May 10, 2021.
Composters
You can purchase a large capacity composter for $40.00 from our Municipal Office located at 22413 Hoskins Line. For more information on composting please check out this article by Andrew Scott of Wellgardening.com
Hazardous Waste Collection
We do not accept hazardous waste at the landfill.
Recycling
Want to see what happens to your blue box items? Watch a video of the Municipal Recycling Facility in London.
All new-construction homes receive two blue boxes. You can purchase a blue box at the Municipal Office for $8 plus tax.
We participate in a two-stream recycling system known as Sort It Right.