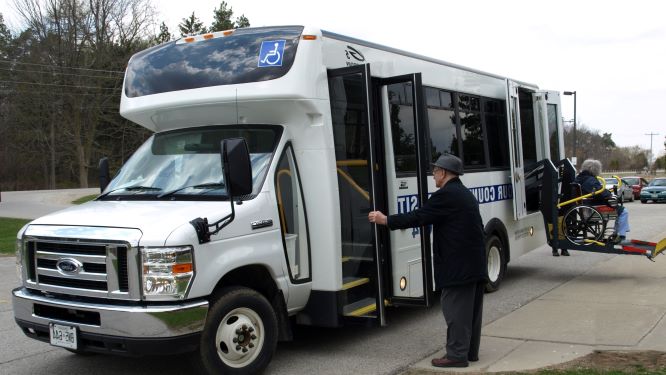 Four Counties Transit offers accessible and affordable transportation for all residents in West Elgin, South West Middlesex, Newbury and Chatham-Kent (ward 3). Transit services are available Monday to Friday from 8:00 a.m. to 5:00 p.m.
For more information please see the brochure
Book a ride
To book a ride with Four Counties Transit, please call 519-693-8604 Monday to Friday from 9:00 a.m. to 4:00 p.m. To ensure service, please book a ride at least 24 hours in advance of your trip.
If you call after hours, please leave a message including your name and telephone number and we will return your call.
If you need transportation outside of our regular operating hours or outside of the service area, we do provide special trips, depending on availability. Special trips will cost extra.
Cost
Trips within our service area during regular hours cost:
$7 for a one way trip
$14 for a return trip
For special trips outside of the service area and outside of regular hours it costs:
$40 per hour plus $0.70 per km
For afterhours service within the service area it costs:
$60 per trip plus $0.70 per km
Prices may change yearly.
Accessible transit
We have wheel chair accessible van that offers accessible transit to:
Medical appointments
Other health related activities
Community programs
Shopping
View or Four Counties Transit Services Accessibility Policy to see how we are removing barrier and making our community accessible.