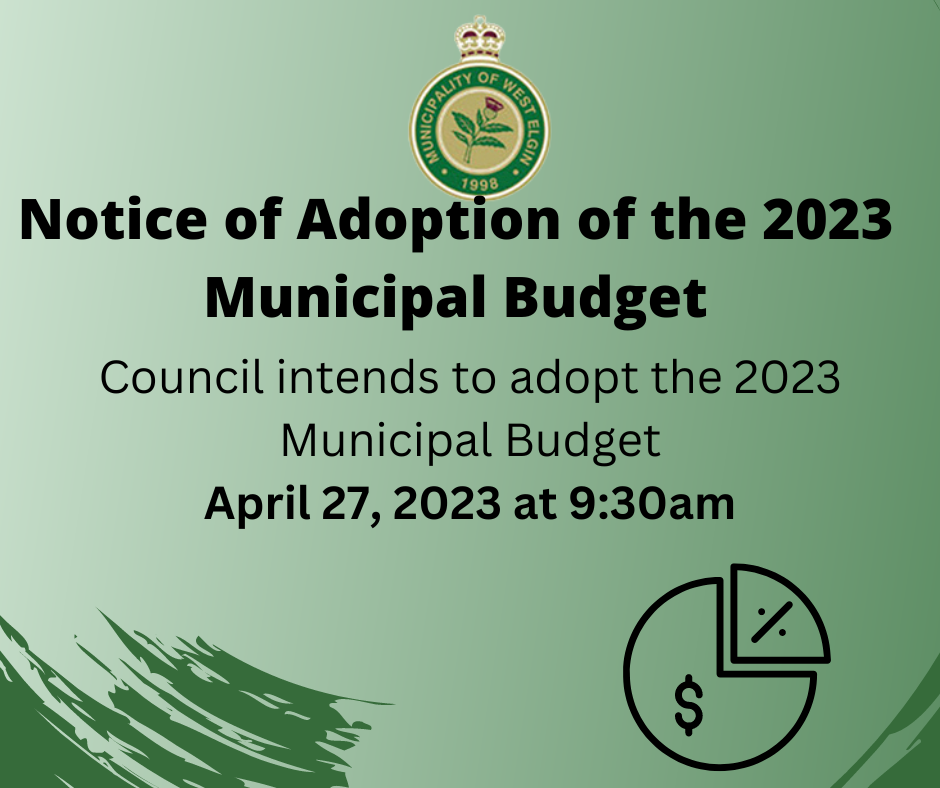 Posted on Wednesday, April 12, 2023 08:00 AM
Pursuant to Section 290 of the Municipal Act, 2001, as amended
Notice is hereby given that the Council of the Corporation of the Municipality of West Elgin intends to adopt the 2023 Municipal Budget at the Regular Council Meeting on April 27, 2023 at 9:30 a.m. in Council Chambers located at 160 Main Street West Lorne and broadcasted live, contact the Clerk at clerk@westelgin.net to receive a link to view this meeting.
The proposed 2023 Budget is available for review at the Municipal Office and...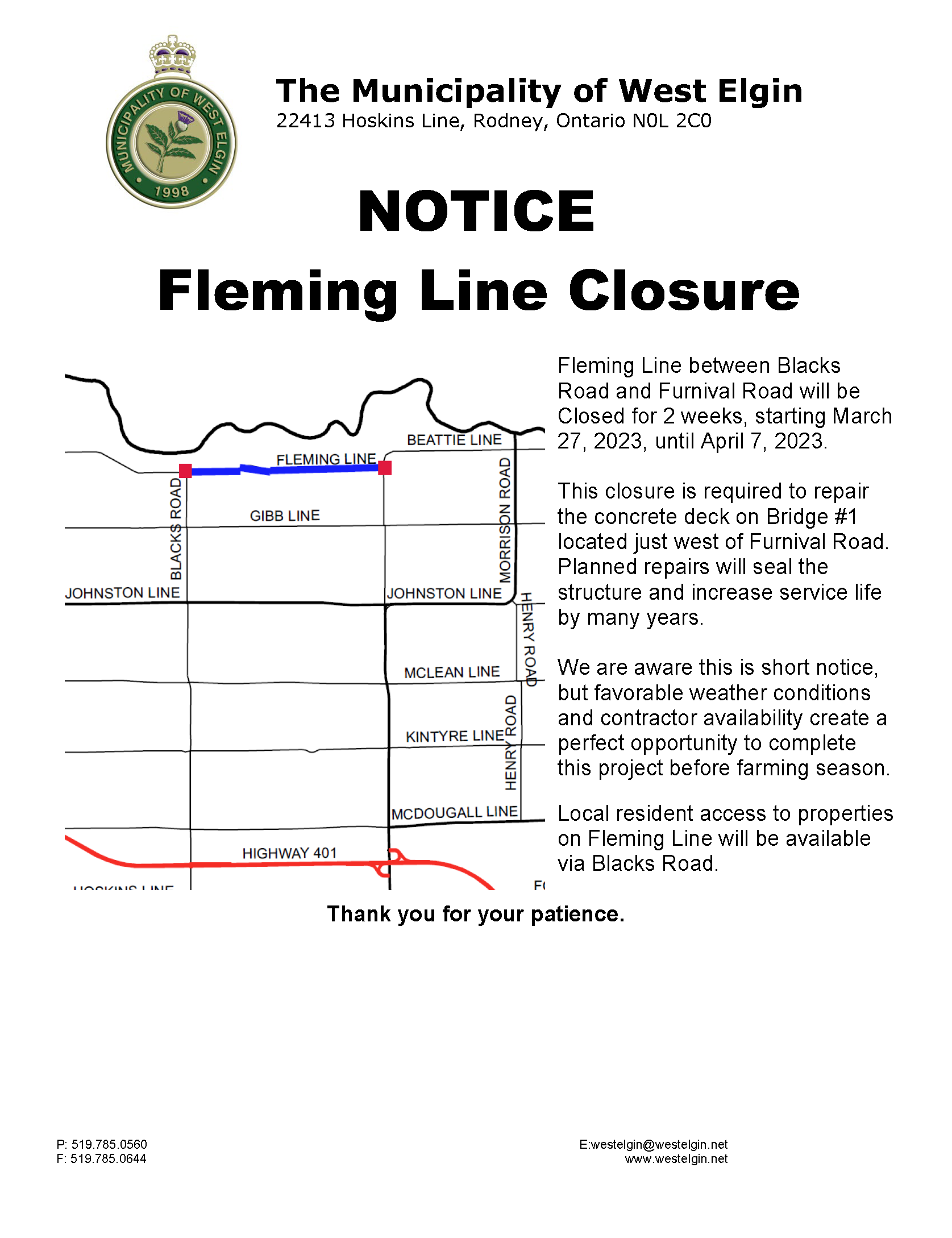 Posted on Friday, March 24, 2023 12:21 PM
Fleming Line Closure Notice
Fleming Line between Blacks Road and Furnival Road will be Closed for 2 weeks, starting March 27, 2023, until April 7, 2023.
This closure is required to repair the concrete deck on Bridge #1 located just west of Furnival Road. Planned repairs will seal the structure and increase service life by many years.
We are aware this is short notice, but favorable weather conditions and contractor availability create a perfect opportunity to complete this project before farming...
Posted on Monday, March 13, 2023 01:00 PM
To honour the life of Mayor Duncan McPhail and to symbolize the light he was to our community, we are asking residents to light a candle or put a light in their window until the night of his funeral. Lets light up West Elgin for Mayor McPhail.
Posted on Monday, March 13, 2023 12:14 PM
Notice of Meeting Cancellations
Due to the unexpected passing of Mayor Duncan McPhail, the Municipality of West Elgin has cancelled the scheduled Committee of the Whole Budget Meeting scheduled for March 16, 2023 at 9 am.
West Elgin has also postponed the Four Counties Transportation Committee scheduled for March 14 at 8:30 am and the Tri-County Water Board meeting scheduled on March 16 at 7 pm. These meeting will be rescheduled at a later date.

Posted on Wednesday, February 22, 2023 08:00 AM
Public Notice of Intention to Pass a By-Law for Closure of Unopened Portion of O'Malley Road Allowance
Take Notice that the Council for the Corporation of the Municipality of West Elgin proposes to consider a by-law to stop up, close and convey those parcels of land more particularly described as RDAL BTN Lt 16 & 17 Concession 2, Aldborough Township West Elgin. The proposed by-law will come before Council on March 9, 2023 at the Regular meeting of Council. At that time Council will hear in person...