Municipal Elections are held the fourth Monday in October, every four years. The next Municipal and School Board Election day is October 24, 2022
Interested in Running for Council?
Watch the recorded Ministry of Municipal Affairs and Housing Presentation on our YouTube Channel
Resources:
MMAH Municipal Election Resources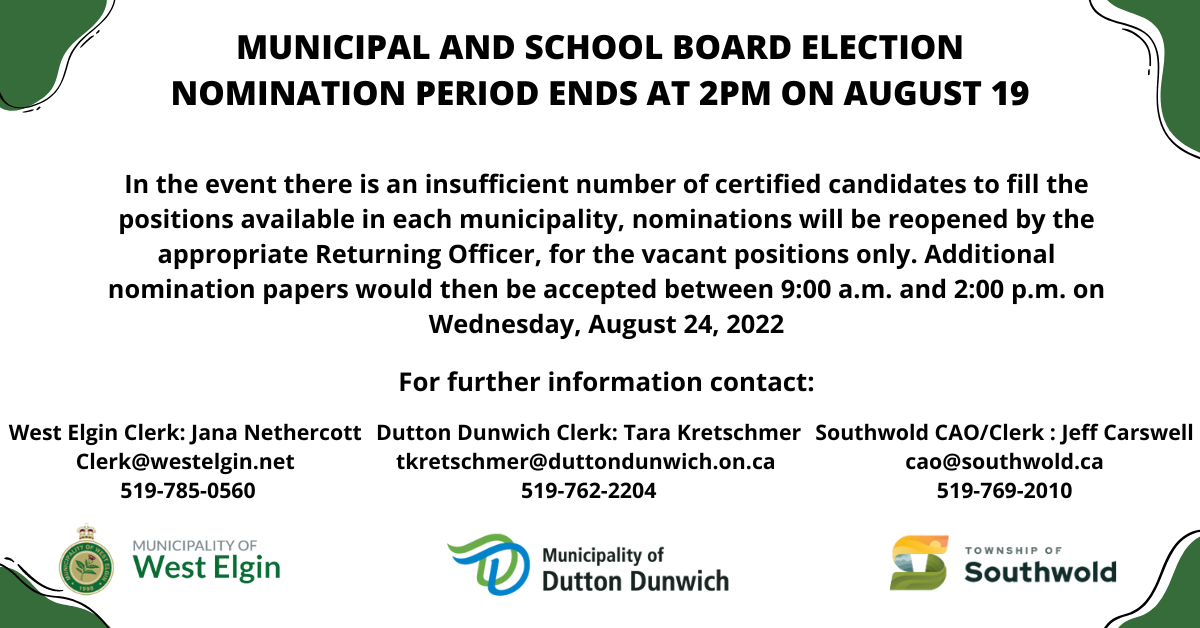 2022 Municipal Election - Important Dates
2022 is a Municipal and School Board Election Year. Below are some important dates in the Election Calendar.
Monday May 2, 2022 - First day Nominations can be accepted for Council and School Board positions
Friday August 19, 2022 (2 pm) - Nominations Close. All Nomination forms must be submitted no later than 2 pm on this day to be considered for the ballot.
Monday August 22 - Clerk certifies all candidates.
Friday October 14 - Advanced voting opens at 9 am
Monday October 24 - Election day.
Unofficial List of Candidates

| Name of Candidate | Office | Email Address | Telephone Number |
| --- | --- | --- | --- |
| McPhail, Duncan | Mayor | normajohnston123@hotmail.com | 226-984-7646 |
| Leatham, Richard | Deputy Mayor | jr.leatham@hotmail.com | 519-693-1162 |
| Tellier, Taraesa | Councillor, Ward 1 | taraesatellier@icloud.com | 519-520-2444 |
| Denning, William R | Councillor, Ward 2 | | |
| Novackas, Michelle | Councillor, Ward 3 | michelle@wildgoatfarm.com | 519-785-3033 |
As of August 10, 2022
For a full list including School Board Trustees please click here
Are you on the Voter's List?
Check to see if you are on the voter's list in West Elgin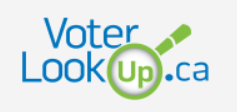 Compliance Audit Committee
The Municipality of West Elgin is seeking interested applicants with accounting, auditing, and legal experience and from individuals with in depth knowledge of campaign finance rules of the Municipal Elections Act, 1996, for appointment to the Elgin Election Joint Compliance Audit Committee.
The detailed position advertisement can be found here.
A copy of the application form can be found here.
Information for Voters - Eligibility
A person is entitle to be an elector or a candidate for the Municipal Election, if on voting day (October 24, 2022) the person is:
A Canadian Citizen
At least 18 years of age
Residing in the Municipality of West Elgin, or an owner of property or tenant of land in the Municipality or the spouse of such an owner or tenant
is not otherwise prohibited from voting
The Ministry of Municipal Affairs and Housing has put together a guide for voters.
Information for Candidates
The nomination period for the next Municipal Election opens on May 2, 2022. It closes on Nomination Day August 19, 2022 at 2:00 PM. A Candidate for Municipal Office must, upon nomination, be a qualified municipal elector in the Municipality and meet all the requirements.

Campaign periods begin when candidates file their nomination papers and end on October 23, 2022. Candidates may not accept donations, spend money, or advertise until they file their nomination.

If interested in running for office, you are encouraged to view the Ministry's Candidates Guide.

Full details available in the 2022 Candidates Package and Election Campaign Forms. Questions may be directed to the Clerk by email (clerk@westelgin.net) or phone 519-785-0560 ext. 222
Accessible Election
The Municipality of West Elgin's Accessibility Pre-Election Report supports and strengthens the Municipality's commitment to respond to the needs of all electors. The focus of this Plan is to ensure that electoral services are accessible to all electors and candidates. The intention is to identify and reduce or eliminate barriers and create a positive voting experience.
The review of accessibility issues and initiatives and addressing barrier prevention and/or removal is an ongoing practice. This plan will be updated as new opportunities are identified or become available.
Municipal Elections Accessibility Plan
AMTCO Candidates Guide to an Accessible Election
Clerk's Election Procedures
In an election year, the Clerk shall establish procedures and forms for use of any voting and vote-counting equipment authorized by by-law and provide a copy of the procedures and forms to each candidate when his/her nominations are filed.
Candidate Package
A candidate package can be picked up from the Municipal Office at 22413 Hoskins Line during regular business hours or you can download the information below.
Nomination Form - return to Municipal Clerk when registering as a candidate. DO NOT SIGN - must be signed in front of Clerk
Endorsement Form - return to Municipal Clerk when registering as a candidate. Please ensure it is signed by 25 eligible electors
Consent to Release Personal Information - return to Municipal Clerk when registering as a candidate. DO NOT SIGN- must be signed in front of Clerk
Notice of Penalties - bring blank form with you to Municipal Office, this will be filled out by the person taking your nomination
Estimated Maximum Campaign Expenses - bring blank form with you to Municipal Office, this will be filled out by the person taking your nomination
Declaration of proper use of the Voters' List - return to Municipal Clerk when registering as a candidate. DO NOT SIGN - must be signed in front of Clerk
If a Candidate decides to withdrawal their nomination prior to 2:00 pm on August 19, 2022 they must fill out the Withdrawal of Nomination Form - return to Municipal Clerk when registering as a candidate. DO NOT SIGN - must be signed in front of Clerk
Financial Statement - Auditor's Report - to be filled out at the end of the Campaign Period (day nomination papers file to December 31, 2022)
Information for Candidates
Provincial and federal elections
Resources: